People and Organisational Development
Since 2006, we have attracted clients such as Barclays, Accenture, PA Consulting, Mercer, Cisco, and other global organisations developing strategies for:
Attracting and retaining profitable customer bases
Attracting, retaining and advancing top talent to enhance business performance
Maximizing employee engagement and thus achieving higher productivity
Strengthening internal and external innovation capabilities for increased revenue generation
We work in a collaborative fashion with our clients in identifying the most appropriate strategies to overcome their talent, and commercial challenges.
Gender-Savvy and Multi-cultural Development
We have developed an unrivalled specialism in cross-cultural leadership, talent and strategy development. One of our areas of expertise is Gender Smart People and Market Development. We work on strategies and techniques to overcome cultural and gender bias in business in order to increase the attraction and retention of top (female) talent and global client-bases.
We work with you to identify the best way to create the most loyal internal customers – your employees. We work with you to instill a culture fuelled by inclusiveness and innovation so that each one of your female employees, particularly those living the challenges of maternity, is engaged and inspired throughout their transitions. Our bespoke programme development is supported by individual development programmes for life-long learning.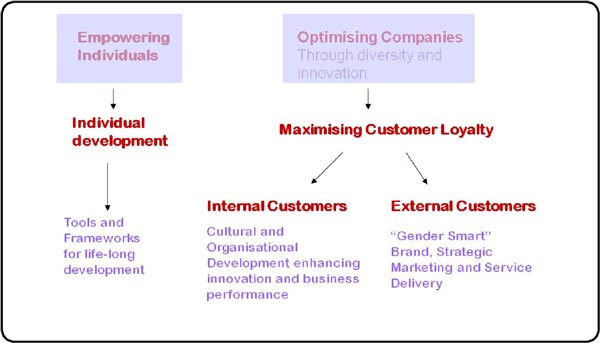 To ensure your products and services are optimized, we can support you in creating "Gender Smart" brand development that ticks your female purchasers buying criteria. We "genderproof" your communications, strategic marketing and the all important product and service delivery points.
Market Development
Our work extends to developing frameworks for the social inclusion of women into the market economy, enhancing the growth of economic growth of local communities whilst empowering women entrepreneurs. Our objective: to create strong communities with an underlying fabric of innovation to generate sustainable, long-term development.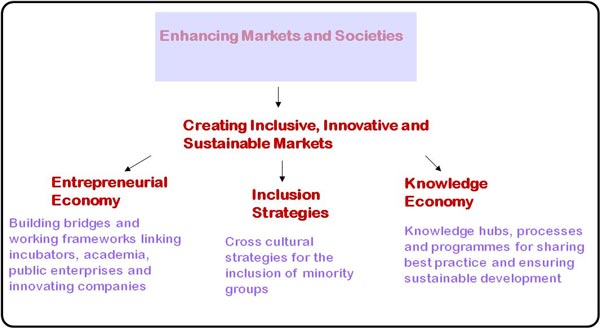 Read About our approach.