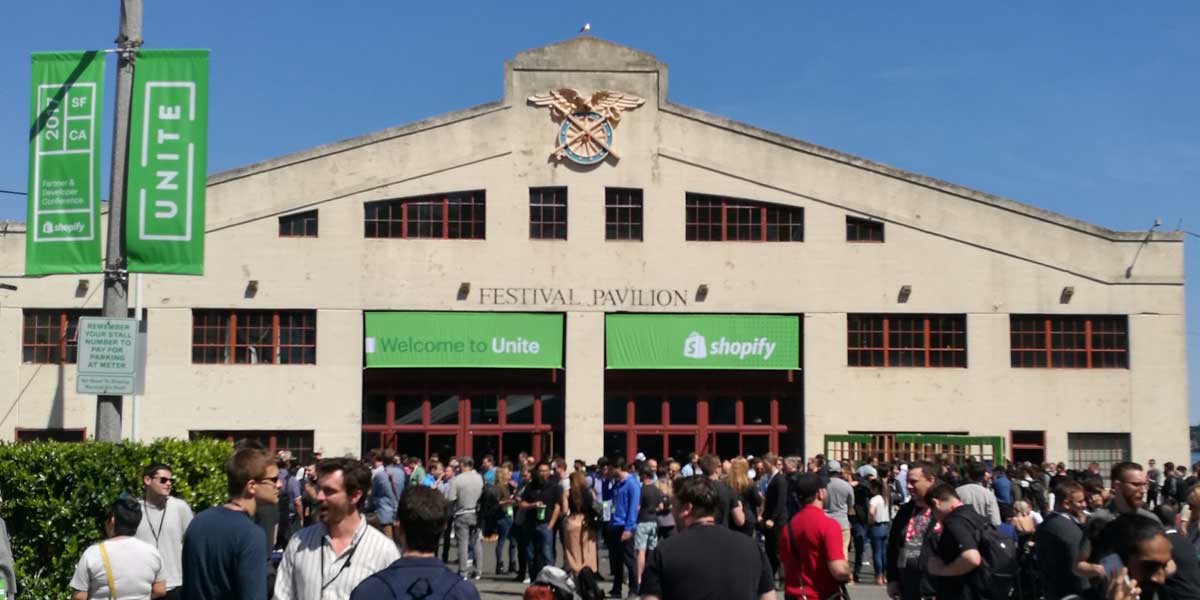 Shopify Unite 2017 Announcements…
There is no doubt that Shopify is innovating rapidly and the announcements came thick and fast on Day 1 of Unite. One announcement stood out though…
Shopify Pay
Allowing a single click checkout on any site powered by Shopify. The first time you checkout on a Shopify powered store, you will be asked if you want your details stored. If you opt-in to this service, the next time you want to checkout on any Shopify powered store, you will be able to do so by bypassing 2 screens of forms. This should have a huge impact on conversion.
The company also announced new hardware – a card reader. This is probably not something that non-US retailers should get too excited about. More can be read about it here..
Other Announcements…
Most of the product announcements at Shopify Unite 2017 show that the company this thinking about the future of Ecommerce rather than looking back at the past. The way people shop is changing fast and Shopify are adapting to keep merchants ahead of the game.
New Sales Channels – Ecommerce is evolving and it is no longer a case of one channel or another. Merchants want to be able to sell anywhere and this functionality makes that easier. However, this is quite a US based initiative and new sales channels may not be useful for merchants in the Middle East and other emerging markets.
Storefront API – Is a pretty big deal, especially for those interested in 'Headless' architectures. This functionality allows for custom front-ends to be built, which opens up a ton of possibilities. This is a GraphQL API which shows that Shopify is preparing for a mobile and Big Data world.
Rapid Build Mobile Apps – Also a pretty big deal, with the rise of mobile. Allows for Shopify stores to be extended out to mobile apps for iOS and Android, potentially in weeks. (We are waiting for a response from Shopify about whether or not these 'one click' apps will support RTL languages like Arabic.)
Unity SDK – Another example of Ecommerce becoming ubiquitous. This will allow for integration directly into mobile games. Perhaps not something that the average merchant is thinking about, however if you consider the amount of time spent on mobile gaming and the traffic some of these apps generate, it is something to watch.
Mobile Sign-In – Could have been missed, but hugely important for countries like the Middle East and China.
Multi-location Inventory –  Almost an aside, but in reality for merchants with offline stores, a pretty big deal.
New UX platform – Thinking about the partner ecosystem, this announcement is a set of tools that allow App developers to make sure that their functionality is consistent with the Shopify look and feel. Developers will also be able to use the same UX testing tools used by core team.
New Discount functionality – Allowing for more complicated promotions to fit with consumers needs for more personalised and relevant discounts.
Home Screen Analytics – Also important for App partners who develop marketing tools. Merchants can see with apps and which campaigns are having an impact on sales directly from the dashboard without having to leave the Shopify environment. This will also apply to the Shopify mobile admin.
---
Based in Dubai or the GCC? Talk to us about Shopify.
---
Shopify Plus Announcements
Shopify Plus is still pretty new, though the company claim that nearly 2,500 merchants are on the platform. The tool is optimised for sites that are growing rapidly and those who experience wildly fluctuating sales through special promotions and 'Flash Sales'. Among other things, Shopify plus announced:
Promotional workflow tool – Shopify realise that for merchants to minimise mistakes there need to be processes. This functionality allows for large promotions or 'Flash Sales' to be managed automatically by the system based on rules, this reduces human error and allows for a more seamless customer experience.
Wholesale – Shopify has built it's business on entrepreneurs who have started as pureplay B2C brands. The platform considers wholesale to be a new sales channel for B2C businesses. True B2B will require customisation from a Shopify Plus partner.
Impact for Merchants in the Middle East, S.E. Asia and China
Shopify is still a platform that is focused on English speaking markets and makes to apologies for it. While multi-language and multi-currency stores are the most requested functions from merchants, Shopify is not in a position to launch new functionality in this area. It seems that they underestimated how hard cross-border eCommerce can be.
Some of the announcements from Shopify Unite 2017 could be very exciting if the themes support different language character sets and RTL formatting.